U.S. Department of Homeland Security (DHS)
The Department of Homeland Security has a vital mission: to secure the United States from the many threats it faces. This requires the dedication of more than 240,000 employees in jobs that range from aviation and border security to emergency response and cyber security analysis.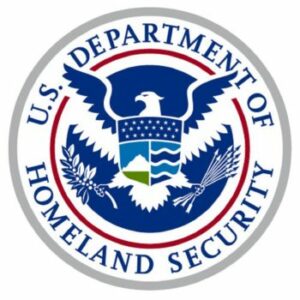 U.S. Department of Homeland Security (DHS)
For information contact: +52 81-8047-3144, +1 956-688-8149, +1 956-622-4413
Customs and Border Protection (CBP)
With more than 62,000 employees, Customs and Border Protection (CBP) is one of the world's largest law enforcement organizations and is charged with keeping terrorists and their weapons out of the United States while facilitating lawful international travel and trade. As the world's first full-service border entity, CBP takes a comprehensive approach to border management and control, combining customs, immigration, border security, and agricultural protection into one coordinated and supportive activity. The men and women of CBP are responsible for enforcing hundreds of U.S. laws and regulations. On a typical day CBP welcomes nearly 1 million visitors, screens more than 67,000 cargo containers, arrests more than 1,100 individuals and seizes nearly six tons of illicit drugs. For more information about CBP, visit our main webpage.
CBP Representative's Office in Monterrey
Contact us at: (81) 8047 3217
Travel  Almost a million times each day, CBP officers welcome international travelers into the United States. In screening both foreign visitors and returning U.S. citizens, CBP uses a variety of techniques to assure that global tourism remains safe and strong. Descriptions of CBP processes and programs are available for first-time and frequent travelers.
For U.S. Citizens/Lawful Permanent Residents  If you are a U.S. citizen traveling abroad, get the information you need to smoothly navigate your return to the United States.
For International Visitors If you are a visitor to the United States coming to work, study, conduct business, or immigrate, get the information you need to smoothly navigate the process and procedures to enter the United States.
I94 If you forgot to turn in your I94 and CBP did not record your departure from the United States, please go to the following link were you will find instructions on how to record your departure.
Trusted Traveler Programs CBP's Trusted Traveler Programs provide expedited travel for pre-approved, low-risk travelers through dedicated lanes and kiosks.  These include Global Entry and SENTRI, which are available to Mexican citizens. http://www.cbp.gov/newsroom/video-gallery/2015/01/how-expedite-your-entry
DHS TRIP Have you been denied or delayed airline boarding; have been denied or delayed entry into or exit from the United States at a port of entry or border crossing; or have been repeatedly referred to additional (secondary) screening? You can file an inquiry to seek redress using DHS TRIP.
Electronic System for Travel Authorization The Visa Waiver Program (VWP) enables nationals of participating countries to travel to the United States for tourism or business (B-type visa purposes only) for stays of 90 days or less without obtaining a visa.
Questions?  Compliments?  Complaints?
Visit the CBP INFO CENTER
Immigration and Customs Enforcement (ICE)
Immigration and Customs Enforcement (ICE) Homeland Security Investigations (HSI) Office of International Affairs (OIA) is the largest international investigative component within the Department of Homeland Security (DHS). The mission of OIA is to protect the United States by enhancing national security to prevent terrorist attacks. In furtherance of this goal, OIA conducts and coordinates international investigations involving transnational criminal organizations responsible for the illegal movement of people, goods, money and technology into and out of the United States.
The ICE HSI Monterrey office covers the States of Nuevo Leon, Coahuila, and San Luis Potosi. It is responsible for:
Coordinating criminal and administrative investigations into violations of United States immigration and customs laws with our foreign counterparts;
Assisting Mexican counterparts with their investigations that have ties to the United States;
Working with the U.S. Department of State to identify visa fraud and coordinating appropriate criminal prosecution when it is detected;
Providing outreach and training to Mexican officials, businesses, non-governmental organizations, civic groups, industry and others in support of our efforts to combat terrorist travel, human trafficking, smuggling, child pornography and exploitation, money laundering, visa and document fraud, customs fraud and other offenses related to the unlawful movement of people, goods, money, and technology into or out of the United States;
Assisting in the repatriation of Mexican nationals who have been ordered deported or removed from the United States;
Due to CoVid-19 contingency, the ICE office will not receive individuals who were ordered to depart the United States and need their voluntary departure, until further notice.
The ICE HSI Monterrey office has no inspectional, regulatory, or immigration benefit components.
Questions regarding immigration and customs inspections, admissions and regulatory processes should be directed to U.S. Customs and Border Protection (CBP).
Questions regarding immigration benefits and immigrant visas should be directed to U.S. Citizenship and Immigration Services (CIS)
For more information contact: +52 81-8047-3144, 956-688-8149, 956-622-4413