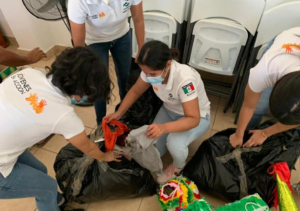 The Department of State, represented by the U.S. Embassy in Mexico and the Mexican Ministry of Public Education, with support from the private sector, offer the "Jóvenes en Acción" – Youth in Action program. This program provides Mexican youth enrolled in their sophomore or junior years of high school a leadership program to explore social issues affecting Mexico and the United States.  Due to the ongoing health concerns, and taking into account the safety of our 2021 participants, this year's program will be conducted entirely in a virtual mode, with the possibility of an in-person closing session in Mexico City, if travel restrictions are lifted in 2021.  Participants will start with a four-month program to provide them with the necessary tools to implement their community programs, followed by virtual sessions throughout the academic year.
Entering its twelfth year, this program boasts 805 "Jóvenes en Acción" alumni from 29 states throughout Mexico.  Some of them have already finished their graduate studies and continue to develop their leadership skills, support their communities, thereby strengthening Mexico and U.S.-Mexico relations.
Project themes for Jóvenes en Acción 2021 include the following: Access to a Clean Environment; Addressing Irregular Migration in Central and North America; Bullying; Creativity, Innovation and Entrepreneurship; Discrimination; Domestic Violence; Financial literacy; School Drop-out; Social Integration of Young Migrants in Mexico; Substance Abuse Prevention; and Technologies and Methodologies for English learning.
For additional information or questions, please send an email to: jovenesenaccion@state.gov